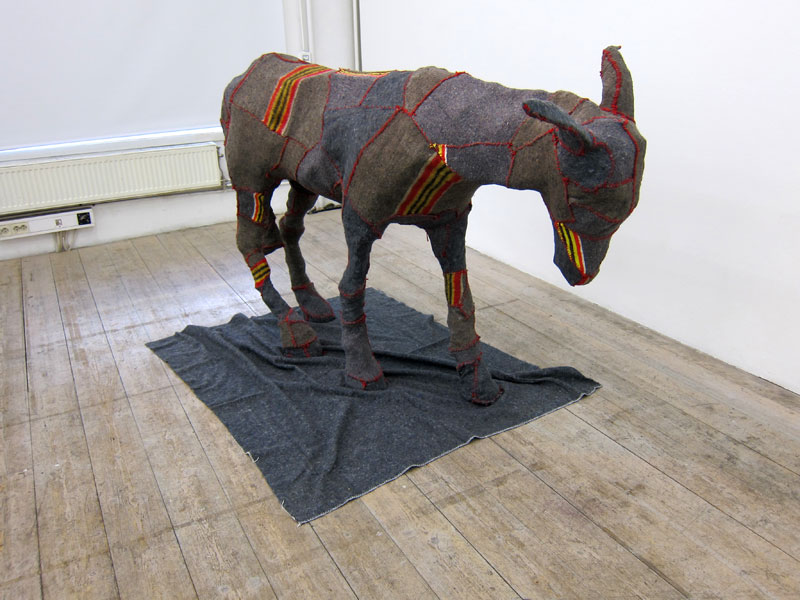 EQUUS ASINUS, PACKÅSNA. Verket Equaus Asinus, Packåsna, är gjord i fullskalig storlek  av en åsna. Den är byggd  av pack-och flyttfiltar, och är en påminnelse om människans rörelse: den last vi bär med oss, vår härkomst och tidlösa förflyttning över gränser.
The work Equus Asinus Pack Ass was shown in the touring art project ÄGD at Studio44 in Stockholm. www.konst-och-hembygd.se. ÄGD consisted questions about local heritage and what it means to belong to a livingplace.  Equus asinus, Pack ass is made of movers blankets and has connections to origin, load, travel and today's refugees. A reminder of human mobility: the baggage we carry with us, our origin and timeless crossing of borders. It is built in full scale of a donkey.
www.konsten.net  19 March 2013, Jakob Anckarsvärd, review of exhibition ÄGD:
Local heritage is strongly connected to childhood, which we easily stumble into before Karin Häll's sculpture "Ice Skates", sensing in their clumsy form the memory of sullen turns on the ice as a child. They manifest something imperfect and frustrating, that you like to laugh about afterwards but was difficult to be aloof about or even express at the time. The same artist has built a poor patched donkey that stands at the far end of the room. The work has a surprisingly strong and palpable presence. It expresses integrity yet at the same time deep humility.
www.konsten.net   19 mars 2013 , Jakob Anckarsvärd, recension om utställningen ÄGD:
Hembygden är starkt kopplat till barndomen, vilket man gärna snubblar in på i Karin Hälls skulptur "Skridskor" vilka just känns i sin klumpighet, som minnet av barndomens truliga turer på isen. De manifesterar något ofullkomligt och frustrerande, som man gärna skrattar år i efterhand men som var svårt att ha distans till eller ens uttrycka vid tillblivelsen. Samma konstnär har byggt en lappad stackars åsna som står längst bort i lokalen. Verket har en förbluffande stark och påtaglig närvaro. Den är integritetsfull och samtidigt väldigt ödmjuk.